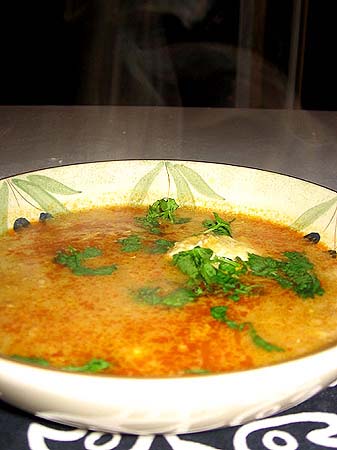 We are seeing signs of spring everywhere. Nature is taking its course. But this is still a transitional time of year for food. The larder is confused: it's telling us we're in winter.
You would hardly know it from the huge displays of fresh produce at the grocery where every possible variety is on display. But if you are eating locally, the pickings may be limited to what overwintered in the garden and what you can scrounge from your pantry.
Here in the District of Columbia, the lettuces are only and inch or two out of the ground. The mustard greens and radishes are coming along, and we are seeing the beginnings of carrots and chard.
Meanwhile, our farmer friend Brett was hit hard by this year's fluky weather. Brett's strawberries bloomed first in January when it was so mild, then again in March. Then all the blooms were killed off by April freezes. Ditto for his early plantings of sweet corn and green beans. Then migrating starlings swooped down and gobbled up his English peas and sugar snap peas.
Elsewhere in this part of the world, many farmers saw their peaches, their blueberries and other fruit crops devastated.
In other words, in the real world of the outdoors where most of our food grows, it's still a struggle.
So I'm not going to pretend it's spring. Instead, we're going to meditate on the change of seasons with a simple soup. Time to dig into the pantry again. I have a big chunk of rustic bread sitting on top of my refrigerator. So I think I'll turn that into a bread and garlic soup. This is a simple yet satisfying meal, a reminder that food doesn't have to be complicated--or bright green--to be good.
Garlic and Bread Soup
Serves Six Persons
This is a primitive and aromatic soup. Nothing could be simpler, the ingredients consisting of a basic stock, sliced garlic cloves and bread. The bread seems to melt like cheese into the broth and despite its rudimentary qualities, the soup has great depth of flavor and makes a meal all by itself. If you like, crack some eggs into the hot broth to poach just before serving.
Note: This soup should be eaten immediately after it has been made. It does not keep well, as the starch in the bread tends to make a pudding-like consistency over time.
½ cup extra virgin olive oil
6 garlic cloves, thinly sliced
generous pinch crushed red pepper flakes
1 teaspoon mild paprika
½ loaf country bread (about 8 ounces) cut into ½-inch slices and torn into bite-size pieces
7 cups chicken stock (preferably homemade brown chicken stock)
1 teaspoon salt or to taste
chopped parsely and grated cheese for garnish (a hard Spanish cheese would be good with this. Otherwise, use a Parmesan or Pecorino.)
In a heavy pot or Dutch over, heat the olive oil and saute the garlic until it softens and just begins to brown. Stir in the pepper flakes and paprika. Then add the bread, stirring to coat with the other ingredients and soak up the olive oil. Pour in the stock and raise the heat. Season with salt and serve hot, garnished with parsley and grated cheese.